From June 17 to August 24, 2019
5 pairs of Gold Season Passes + Dining Passes will be drawn during summer.
A total value of $3380.
Draws will take place on the following dates: July 3, 17, 31 and August 14, 28, 2019.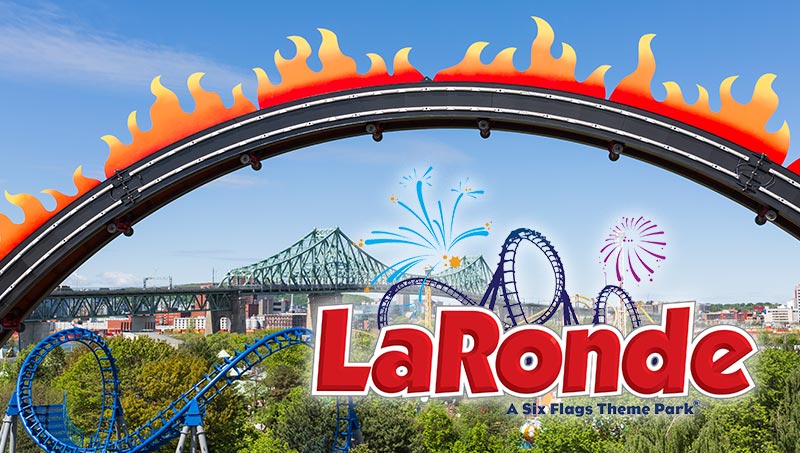 5 pairs of Gold Season Passes + Dining Passes
A total value of $3380.
Gold Season Pass - Full list of benefits:
Includes parking for 2019
FREE Reusable Bottle with unlimited refills (small fee)
Unlimited admission to La Ronde
Includes park admission to Fright Fest in 2019 (some activities require an additional fee)
Unlimited admission to ALL Six Flags theme parks
Special days when you can bring a friend free
Exclusive ride time events
Significant discounts on park tickets for friends
Hundreds of dollars worth of in-park savings
Dining Season Pass - Key benefits:
Lunch and a snack each visit
Multiple restaurants to choose from
Wide selection of entrees, sides and snacks
Flexibility to replace a meal with a snack
Enter now!
Contest Rules
Contest Rules of ''Your Gold and Dining Season Pass at La Ronde''
1. To enter and have a chance of winning a Gold Season Pass and a Basic Dining Pass, valued at 3380$ (332$ for each pair of Gold Season Pass and 344$ for each pair of Basic Dining Pass), the contestant must fill out our online form.
2. Only one entry per person.
3. Once the draw has taken place, the winner will be notified by phone, by email or in person by a representative appointed by ESSOR Insurance and the prize will be remitted to the winner within 5 days after the draw. If several attempts to contact the winner remain unanswered, within a period of 2 days after the draw, we will proceed to a new draw.
4. The contest begins on June 17th, 2019, and ends on August 24th, 2019 at 11:59 p.m.
5. The prize consists of one pair of Gold Season Pass and one pair of Basic Dining Pass tickets per draw for a total of 5 draws during the period of the Contest.
6. To be eligible for a chance to win this prize, the participant has to correctly answer the mathematical skill-testing question appearing on the contest prize claim form, without assistance from anyone and without any mechanical assistance, while complying with the rules of this contest.
7. This contest is organized by ESSOR Insurance and is open to all Quebec residents, except for ESSOR Insurance employees and persons with whom they live.
8. A contestant eligible to win a prize must sign a statement confirming his understanding of, compliance with and acceptance of the contest rules and acceptance of the prize, as well as a release from all liability, satisfactory to ESSOR Insurance, before being declared a winner of this contest. He must be at least 18 years of age to enter the draw.
9. ESSOR Insurance reserves the right, at its complete discretion, to substitute a prize of equal value or similar quality to any prize, regardless of the reasons. The prize may not be transferred to another person without the prior consent of the person responsible for the ESSOR Insurance contest and must be accepted as awarded. No cashable or exchangeable value.
10. The contest is subject to all federal, provincial and municipal laws. ESSOR Insurance's decisions concerning all the conditions of the contest are final.
11. By accepting the prize, the winner agrees that his name and image be used for promotional and advertising purposes by ESSOR Insurance, without any remuneration or approval on his part.
12. This contest may be interrupted or cancelled at any time, without prior notice. In Quebec, this right falls under the jurisdiction of the Régie des alcools, des courses et des jeux du Québec.
13. In Quebec, any dispute regarding the organization or conduct of a publicity contest may be submitted to the Régie des alcools, des courses et des jeux for a ruling. Any dispute regarding the awarding of a prize may be submitted to the Régie only for the purpose of helping the parties reach a settlement.
14. No purchase required.
15. Once the online form for this contest is duly completed, it will be sent automatically by email to the ESSOR Insurances responsible of the contest.
16. The online form must be received prior to each drawing dates to be valid.
17. By valid entry, ESSOR Insurance means a form issued by ESSOR Insurance, the sections of which are duly completed, legible and clearly identifiable.
18. This contest is open exclusively for residents of the Province of Quebec.
19. The draw will be conducted at 11:30 am, on July 3, 17, 31 and on August 14 and 28 by the Marketing Department representative on duty at ESSOR Insurance's Montreal office.
20. Any contestant may obtain the text of the contest rules by visiting the ESSOR.CA website.